For Immediate Release: July 9, 2010
Media Contact: Cash Edwards, 512/447-0544 or CashEdwards@austin.rr.com
Steve Forbert Tours Texas Singing His Now 13-Minute "The Oil Song"
(Austin, Tex.) In the past quarter-century, the Mississippi-bred, Nashville-based singer/songwriter Steve Forbert has built a deeply personal body of work that's won him a reputation for clear-eyed insight and plainspoken eloquence. In the process, he's evolved from the wide-eyed young troubadour of his early classics Alive On Arrival and Jackrabbit Slim, to the bittersweet outlook of his more recent work. Songs such as "The World Is Full of People" and "Sing It Again, My Friend" survey more mature territory with hard-won empathy and deeply-ingrained rock 'n' roll soul. Forbert was inducted into the Mississippi Musicians Hall of Fame in 2006 and his hit song, "Romeo's Tune" was recently covered by Keith Urban. (SteveForbert.com)
<![if !vml]>
<![endif]><![if !mso]>

<![endif]>

<![if !vml]>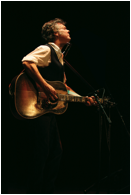 <![endif]>

<![if !mso]>

<![endif]><![if !mso & !vml]> <![endif]><![if !vml]>

<![endif]>Come out and enjoy Steve's shows:
Aug 4

Casbeers

at The Church
1150 South Alamo, San Antonio, TX
Doors Open @ 8:00 p.m. All Ages $20
For info: (210) 271-7791 or www.casbeers.com
Aug 5

Dosey

Doe Coffee Shop
25911 IH-45 North, Woodland, TX
Doors Open @ 8:00 p.m. $18/ $12
For info:(281) 367-3774 or www.doseydoescoffeeshop.com
Aug 6

Poor David's Pub
1313 So. Lamar St, Dallas, TX
Doors Open @ 7:30 p.m. All Ages $20 / $22
For info: (214) 565-1295 or www.poordavidspub.com
Aug 7

The Cactus Café
24th & Guadalupe Sts, Austin, TX
Doors Open @ 7:30 p.m. All Ages
For info: 512/475-6515 or www.utexas.edu/txunion/ae/cactus
"In 1979, Steve Forbert released the album Jackrabbit Slim which featured the hit single "Romeo's Tune." Though the track became Forbert's signature song, an equally enduring composition from that package was included on a bonus 45 titled "The Oil Song."
Originally, its lyrics documented early oil spills, one more horrific than the next. But with each passing decade, the song's topic has continued to be relevant, and it sadly gets frequently updated by its author to include the latest litany of petrol disasters. The following is an interview..." – Mike Ragogna, Huffington Post
The Oil Song 2010 is a digital recording including two versions of "The Oil Song" and three other cuts. Go to SteveForbert.com to download the 5-track album in your choice of 320k mp3, FLAC, or just about any other format you could possibly desire.
For information, hi-res photos and interview requests please contact Cash Edwards. Photos above are suitable for internet use.